Soft Starter Basic Operation
Soft starter is a reduced voltage controller designed for starting standard 3 Phase induction motors. The unit is solid state, using a microprocessor to control inverse parallel (back to back) pairs of SCR's.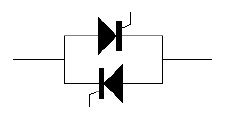 An SCR/thyrisor is a semiconductor device that latches when triggered. Once triggered it allows current to flow in one direction only and turns off at zero current.
The firing angle of the SCR's are controlled to achieve the desired acceleration of the motor.
Soft Starters provide the following benefits:
Reduced stresses and wear on the mechanics of the system
Reduced starting currents
Minimize voltage dips on the supply
Lowered Peak demand charges
Eliminate belt slippage on fans
Smooth acceleration of motor / load
Soft Starter Torque Control Feature
The soft starter incorporates a closed loop torque control system to provide better control over starting & stopping 3 phase induction motors. Conventional voltage ramp control systems typically produce low torque at low speeds. When starting & stopping variable torque loads (e.g Pumps) this can results in a very rapid acceleration or deceleration with a non linear change in motor speed.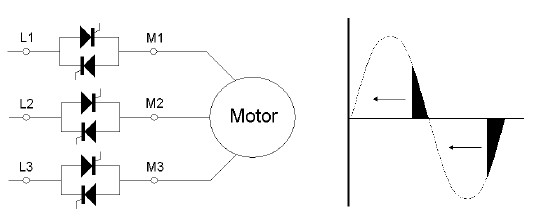 The soft starter overcomes these issues by regulating the torque in the motor to match the load type during the acceleration & deceleration. This essentially allows a constant torque to be produced in the motor. The continual monitoring of the motor characteristics during the ramp also allows instantaneous adjustment of the starter output to allow for changes in load conditions.
The
soft starter
control system provides smooth starting & stopping, allowing ramp profiling to produce a linear acceleration and deceleration of the motor speed. There are many benefits with variable torque loads such a pumps and fans by achieving a linear ramp profile and greater control over deceleration. With pump applications this provides better control to minimise water hammer problems.
Torque Control Soft Starter's Benefits include:
A true linear acceleration of the load and motor for all load types.
Reduced peak inrush starting currents.
Reduced stresses and wear on the mechanics of the system
Ramp profiling to better match type of load such as variable torque loads. Better control of pumps and fans, without rapid initial ramp but linear ramp.
Reduced heating in motor at low speeds.
No instability due to changing power factor. Closed loop system to monitor and react to changing power factor.
No instability due to slot ripple in 3 wire and 6 wire operation.
Better control of deceleration through closed loop torque control system.
The soft starter also offers user access to ramp profiling parameters to fine tune the Torque Control System to achieve more application specific performance requirements.