Soft starter wiring
The soft starter has following wiring connections:
Main circuit connection: It contains the wiring of 3-phase power source input, the output to motor, and the bypass contactor connection.
External terminal connection: that is the wire comes from 12 external terminals which including control signal and analogue output signal.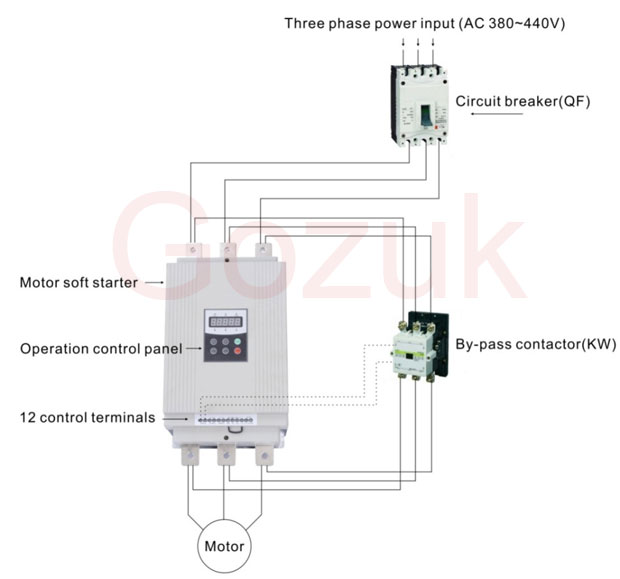 Soft starter external terminals connection

Terminal ① ② are bypass output, are used to control the bypass contactor. They are normal open contacts and are closed when finishing starting. The terminal contact capacity is AC 250V/5A.
Terminal ③ ④ are programmable relay output: The delay time is set by P4 code. The output command type is set by PJ code. They are normal open no-power terminals, being close when output valid. This terminal contact capacity is AC250V/5A.
Terminal ⑤ ⑥ are fault output , they will be closed when there are any fault matters happened to the soft starter or electricity lost, while at normal case they are open. This terminal contact Capacity is AC250V/0.3A.
Terminal ⑦ are instantaneous stop input, this terminal must be connected with terminal ⑩ when the starter works normally. But if these two terminals are open, the soft starter will stop, and at this time the motor starter is at the state of fault protection. This terminal ⑦can be controlled by the normally closed output terminals of external protection device, and it is useless when the PC code is set to 0(basic protection).
Terminal ⑧ ⑨ ⑩ are startup or stop input .There are two ways of connections for your selection; those are 3-wire connection and 2-wire connection, see:

Terminal ⑾ ⑿ are DC 4~20mA analogue output ,they indicate the current value of the motor at real-time working. The 20mA is full-scale value and that is four times than rated current of nominal power of soft starter, and we can connect a 4~20mADC current meter to check. The max value of output load resistance is 300Ω.

Note:
Please make sure that external terminals are in right connection, otherwise, the soft starter may be damaged.
Soft starter main circuit wiring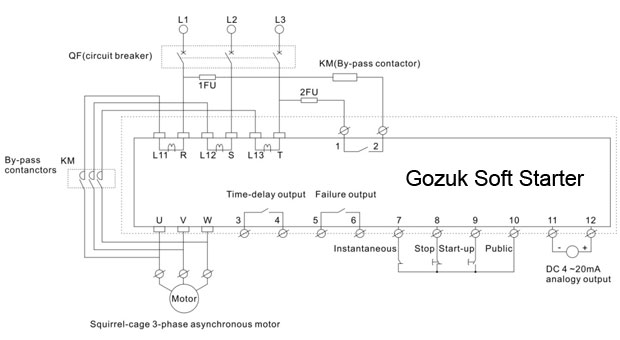 The soft starter is installed between the mains and cable to the motor. If a mains or isolation contactor is used it is best controlled by the soft starter "Line relay".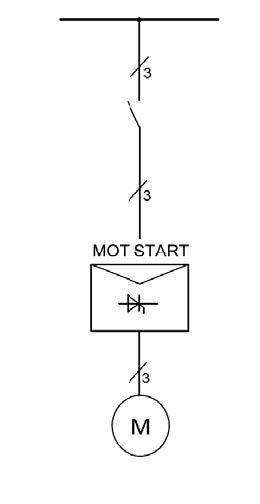 3Wire / 6wire
: The standard connection of an electronic soft starter is 3 wire. An alternative connection is 6 wire or inside delta connection. This is commonly used when replacing a star/delta type motor starter.
Bypass / Continuous
: The soft starter can operate with or without a bypass contactor. Some models include an integral bypass contactor. The bypass contactor reduces the heat dissipation of the soft starter as the semiconductors are bypassed after the ramp time.
Motor Protection
The soft starter provides advanced motor protection with user selectable overload classes, over & under current protection, phase imbalance and thermistor protection. It is important that the power wiring is followed correctly to ensure proper protection and starter performance.
Semiconductor fuses
are recommended for all electronic soft starters to provide protection of the thyristors in the event of an output short circuit. Semiconductor fuses are strongly recommended for applications such as submersible pumps. Semiconductor fuses are optional with all soft starters.