Home
»
Soft Starters Knowledge
Possible reduction in the size of starter required, saving on space and /or cost.
Wiring may already be present if a start/delta type starter was previously used.
Reduced motor cable size.
The major advantage is that the current in the SCR is 58% less than it would be for the same motor connected in 3 wire.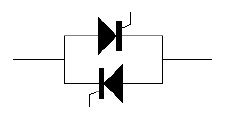 Soft starter is a reduced voltage controller designed for starting standard 3 Phase induction motors. The unit is solid state, using a microprocessor to control inverse parallel (back to back) pairs of SCR's. An SCR/thyrisor is a semiconductor device that latches when triggered. Once triggered it allows current to flow in one direction only and turns off at zero current.
Soft starter: Motor starts without any jerks i.e. smoothly and gradually picks up to the synchronous speed. The life of the motor is thus increased significantly and the maintenance problems are drastically reduced.
Auto Transformer: Motor is subjected to heavy jerks during starting and a bit later because of the sudden inrush of current .This causes severe damages to the motor winding which ultimately burn off.


Motor acceleration torque and starting time has direct relationship. Electronic soft starter can make the motor with voltage ramp start from initial voltage to full voltage at the set time (0.5 to 2408). Like it can reduce water impact if we extend the time of water pump flow from 0 to 100%, increase the pump speed variation time means increase the starting time which can be achieved by adjusting the starting time of the soft starter. Starting time should be adjusted according to the specific loads and repeated tests, in order to achieve smooth acceleration within starting time.