Soft Starter Thermal Protection
Soft Starter Thermal Protection:
Thermal protection of the soft starter is provided by a temperature sensor located on the heatsink and by calculating the temperature of the thyristor junction with sophisticated modeling of the specific devices used. The starter fans are powered by 24VDC supply and thermally controlled when the heatsink temperature exceeds 40°C and whist the motor is ramping.
Motor thermal Protection
The soft starter provides thermal protection of the motor by providing a thermistor input and also a programmable motor overload protection feature.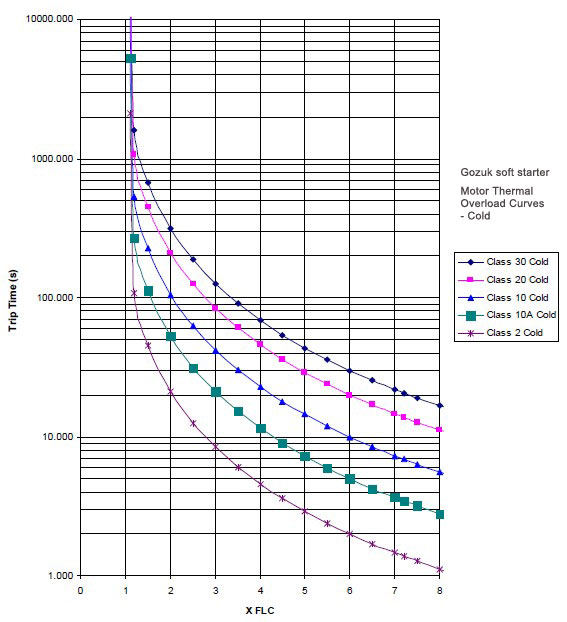 Fig. 1
Motor thermal Protection Cold Curves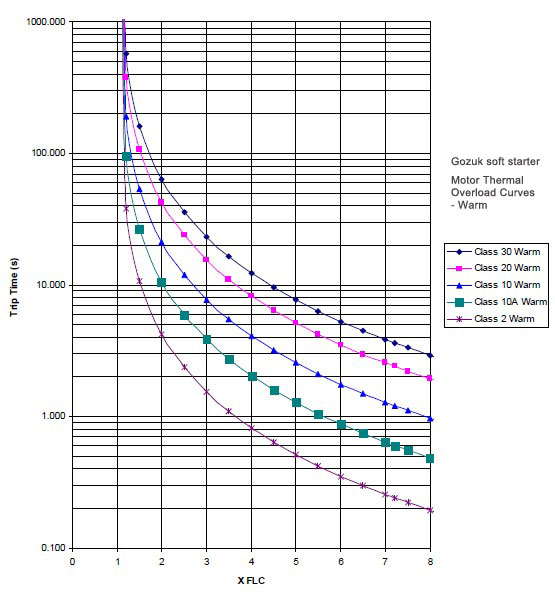 Fig. 2
Motor thermal Protection Warm Curves
The soft starter continuously monitors the current and calculates the temperature rise of the motor based on the motor data provided. The standard IEC60947-4-2 defines the protection classes giving the starting capacities of the motor (warm or cold) without thermal trips.
The thermal protection displayed by the soft starter corresponds to the thermal time constant:
An overload trip will occur and stop the motor, if the motor exceeds the critical temperature rise threshold of 125%
This feature has a memory function based on the thermal capacity and may not allow a start if the temperature rise is too high.
The thermal state continues to calculate even when the starter is off and powered down. Simply by turning power off and back on will not reset the thermal state.
Motor thermistor Protection
The
soft starter
provides an input for a thermistor or normally closed switch. Thermistor / PTC probes integrated in the motor to measure its temperature can be connected to the thermistor input terminals.
This input has a trip resistance of 3000ohms and a resistance of 20ohms or less will be detected as a short circuit. Alternatively, a normally closed thermal switch may be used which open circuits at a specific temperature.