Soft starter in 6 wire connection
The soft starter can be configured to operate in 6 wire mode. 6 wire mode may be the preferred method due to:
Possible reduction in the size of starter required, saving on space and /or cost.
Wiring may already be present if a start/delta type starter was previously used.
Reduced motor cable size.
The major advantage is that the current in the SCR is 58% less than it would be for the same motor connected in 3 wire. The diagram below illustrates how the motor is connected in 6 wire, also known as inside delta.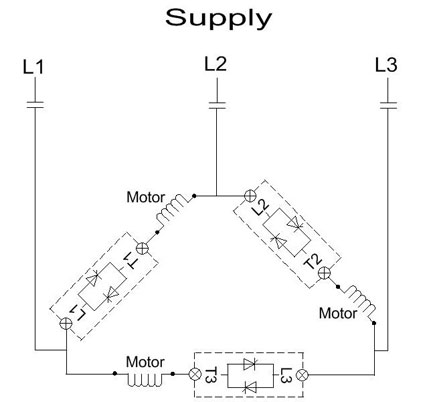 3Wire / 6wire connection:
The standard connection of an electronic soft starter is 3 wire. An alternative connection is 6 wire or inside delta connection. This is commonly used when replacing a star/delta type motor starter.
The following illustrates the difference between soft starter in 3 wire & 6 wire connection: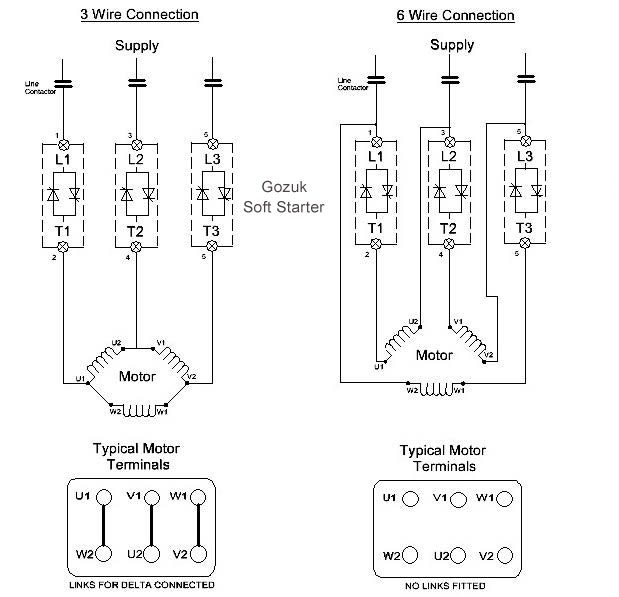 The
soft starter
provides advanced motor protection with user selectable overload classes, over & under current protection, phase imbalance and thermistor protection. It is important that the power wiring is followed correctly to ensure proper protection and starter performance.
The soft starter comes standard with internal Current Transformers for monitoring the current during acceleration, deceleration and when in bypass.
It is important that the
soft starter be wired
in a manner to ensure the Current Transformers are always monitoring the motor current. For this reason 9 terminals are provided. This is important to ensure continual
protection of the soft starter
, the motor and the load. The correct installation of the Current Transformers is crucial for optimum performance of the soft starter torque control system. In some situations such as 6 wire operation, it may be necessary to relocate the Current Transformers external to the soft starter. For 6 wire operation the Current Transformers are to be installed on the incoming line supply cables so that the line current is monitored (not the phase currents).