Use of fuses in between soft starter and MCCB
Problem
: We are having agitators with soft starters. There is MCCB than Fuses and then soft starter. The problem is that at the time of starting, the fuses got blown. The motor Kw is 160. Earlier the fuses were of 450Amps semiconductor type. We increased the fuses rating to 550Amps. But now the frequency of fuse blown is reduced but has not gone. Should we go for further fuse rating? Or could we bypass the fuses and be on the MCCB?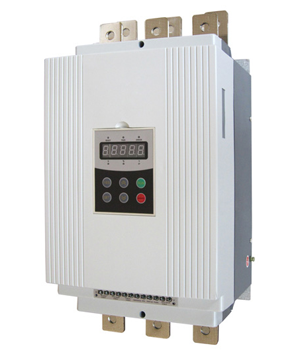 Answer
: If you're drawing more than about 1.5 * (rated steady state current), your soft starter is not doing its job correctly.
The idea behind the
soft starter
is to adjust the voltage seen by the motor to limit the inrush current to an acceptable (programmable) level. Typically, this is somewhere between 110 and 150 percent of the rated steady state current. To do this means adjusting the motor terminal voltage DOWNWARD - which has an adverse affect on developed torque.
What this means is that the motor will draw less current at reduced voltage (relatively linear relationship, 80 % volts limits inrush to 80 % of full-volt condition). But torque is reduced by the square of the voltage (torque at 80 % volts is only 64 % of full-volt condition).
Your job is to juggle the torque against the current to provide the optimum solution for acceleration of the driven equipment.
The fluid density of the material being agitated is a factor in the required torque to operate continuously and to accelerate from standstill. Initially, the motor is designed to develop a specific amount of acceleration torque - which is defined as the difference between the
developed motor torque
(proportional to voltage, remember?) and the required load torque (which is proportional to fluid density and temperature, among other things).
Sounds to me like a couple of things are happening at once: the soft starter is not doing its job of
regulating the inrush current
(by adjusting voltage) correctly. And the required load torque has - probably - increased significantly to a point where the motor can no longer adequately accelerate the load. This may be due to insufficient torque (regardless of applied voltage), or perhaps insufficient voltage applied to develop acceleration within the thermal (time) parameters of the control scheme.