Soft Starter installation
The direction and distance of installation: In order to make sure that the soft starter be in good ventilation and heat dissipation, please install the soft starter in vertical direction, and be sure the space around the starter is enough. (See following diagram)
If the soft starter is installed in a box, please note that the ventilation is very good, as well as the above notes. (See the diagram)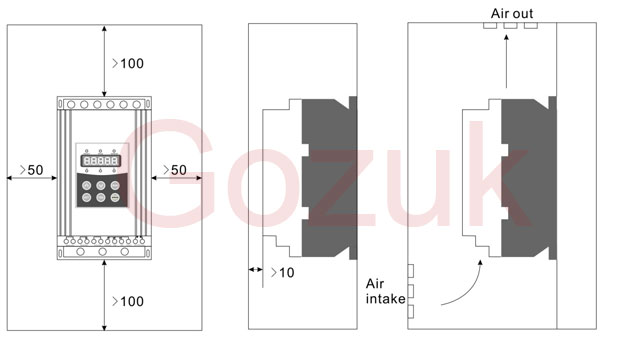 Motor soft starter installation diagram

The
soft starter
should be installed by qualified electrical personnel only. The following should be considered when installing the soft starter.
Mount in a vibration free environment.
Mount vertically and away from heat radiating sources.
Do not mount in direct sunlight or on hot surfaces.
Mount in a suitable enclosure for the environment in which it is to operate, the total heat dissipation must be considered.
Do not drill holes into the soft starter enclosure.
Do not allow metal shavings or any other conductive material to enter the enclosure or damage may result.
The Soft starter is cooled by temperature controlled internal fans. Installing a bypass contactor will reduce the heat dissipated (
how to calculate soft starter heat dissipation
) and the ventilation required. Soft Starters generally dissipate approximately 4.5watts per Amp when operated without a bypass contactor.