Soft Starter Working Principle
The control core of Gozuk
HV/MV soft starter
cabinet is composed of a HV motor soft starter integrated controller, a thyristor dynamic safety monitoring and protection unit, a thyristor firing unit, HP constant current source and so on.
The integrated controller functions to start and
protect the motor
and related equipment. It controls the thyristor firing unit to regulate the angle of flow of thyristor according to the set startup curve via the thyristor dynamic safety monitoring and protection unit, so as to control the voltage of motor, slowly increasing the motor voltage and current and smoothly increasing motor torque until the motor up to full speed. This startup mode cuts the motor's startup impulse current and reduces the impulse to the gird and the motor itself as well as the mechanical impact of mechanical load devices connected to the motor, by which it prolongs service life and shortens fault and maintenance time.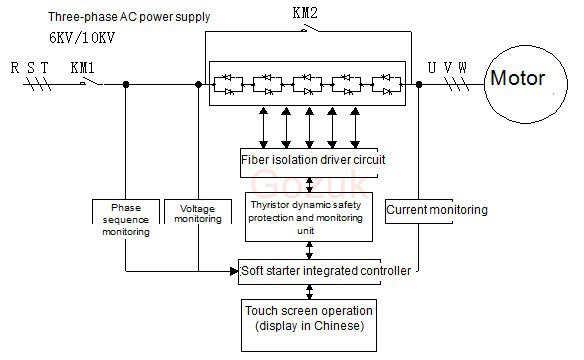 Block Diagram of Thyristor Solid Soft Starter Cabinet Working Principle
Soft starter Applications:
Gozuk HV/MV solid soft starter cabinet is applicable to 6KV/10KV medium and large AC motor soft startup and is widely applied in industrial fields such as metallurgy, petroleum, chemical industry, port operation, mining, construction and electricity power. It further can be used with
motor drive
equipment such as water pump, fan, compressor, crusher, mixer, belt feeder and other electric mechanical equipment.