AC motor Soft starter
Our soft starters integrates electric force and electronic techniques computer technique and modern control theory. It is the new generation AC motor starter to replace the conventional star-delta starter, self-coupling voltage-drop starter and magnetic control voltage-drop starter.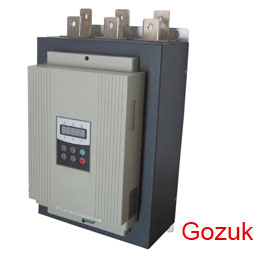 Perfect design
Pretty external shape and structure, perfect and unique functions, simple and reliable operation, every technological is made in the best design.
Reliable and high-grade quality
This soft starter is designed according to the computer analog test, has the best electromagnetic compatibility. It is proved high quality by the high-temperature ageing test and jigging test which done before the starter out of our factory.
Complete and perfect protection functions
Such as low voltage protection, failure voltage protection, over voltage protection, motor overheat or starting overtime protection, input or output failure phase and three-phase unbalanced protection, over current, over load and short current protection.
Self decision-making intellectual property
Including exterior designing patent, decision-making software copyright, the starting and protection techniques of motor, and the technology of detecting and debugging
The best service
The reliable function and quality is the basic of the best service. Even more, we can supply the special designing and functions
soft starter
to match your need and the timely and perfect usage consulting service.
Basic installation conditions
Power Supply:
3-phase alternating current 380V, 480V or 660V±15%, 50Hz or 60Hz. The power capacity of the soft start must meet the motor starting requirement.
Matched Motor:
Motor should be three phase squirrel asynchronous motor, and its power capacity must be matched with soft starters.
Starting time:
The
starting time
is according to the loading equipments.
Cooling Mode:
Naturally wind cooling.
Protective Grade:
IP20
Environment Conditions:
when altitude is less than 2000m, the temperature of the environment should be between -25~ 40, relative humidity should be less than 90%, no vapor, no flammable, volatile, corrosive gas. No electric dirt, indoor installation, ventilated, vibration is less 0.5G.
Note: Over more, we can manufacture other type soft starters which are used in special conditions, such as explosion-proof type soft starter, low-temperature type soft starter, or high-voltage type soft starter.