High voltage (HV) soft starter
Our soft starters integrates electric force and electronic techniques computer technique and modern control theory. It is the new generation AC motor starter to replace the conventional star-delta starter, self-coupling voltage-drop starter and magnetic control voltage-drop starter.
Soft start function:
starting current lower than 1.0 time rated current and can start repeatedly and continuously;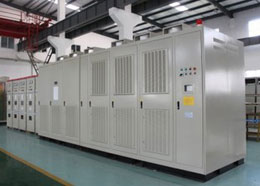 High-high direct high voltage power supply: Gozuk high voltage soft start device with high voltage direct input, high voltage direct output, do not need to output boosting transformer, small occupying area, applicable to normal AC motor;
No-harmonic input: Gozuk soft starter input uses phase shift multiplex rectifier technology, the voltage current harmonic is little, input does not need to add harmonic suppression device, do not pollute the grid;
No-harmonic output: This soft starter outputs standard sin wave current, voltage current harmonic is little, output does not need to add harmonic compensation device, do not add the operating noises of the motor, do not generate additional stress;
High security: The design of Gozuk soft starter is according to national mandatory norm of high voltage, there are fibers connecting between high voltage main loop and control loop, it is secure and reliable;
Perfect protection and failure warning design: the
soft starter
has complete system protection function and power unit protection function. After the protective action, the system can automatically record the failure and accident memory. The failure record can automatically record the action type and time of different protections, which can help technicians analyze the failure reason and do fault location;
High flexibility: this HV soft starter can do field control through PLC, and modify parameter settings through human-computer interface to change controlling method flexibly. It has various standard communication agreements which can easily get communication with the central control system;
Install, debug and maintain conveniently: the power unit is designed according to shape of drawer. The connector method, instead of manual work connecting, is used in connecting power unit with wiring outside, which has good interchangeability and is easy to replace.