Low voltage motor soft starter
Gozuk low voltage soft starter is a new type start-up equipment which integrates electric force and electronic techniques computer technique and modern control theory. It is the new generation AC motor starter to replace the conventional star-delta starter, self-coupling voltage-drop starter and magnetic control voltage-drop starter.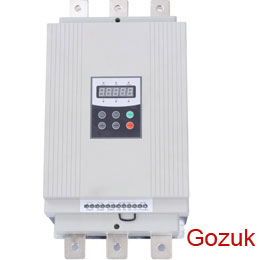 Key features
- This motor soft starter can reduce the starting current of motor and the power distribution capacity to motor effectively, so it could
save the cost
.
- It can reduce the starting current of motor and other loading equipments, so that lengthen their service life.
- The function of soft stopping can solve effectively the surging problem of inertia system when stopping. The conventional motor starting equipments cannot realize it.
- The perfect and reliable protection features, can give the effective protection to the operator's safety as well as the motor and matched equipments.
- The application of intelligent and network technique make this soft starter meet the high-speed development of electrical force automated technique effectively.