Cheap soft starter for motor protection
Soft starter is an electronic device integrates soft start, soft stop, light-load energy saving and various protection functions for motor controls.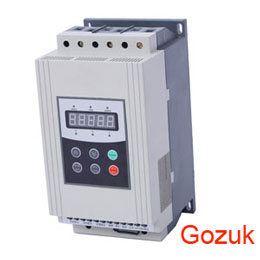 Features:
Multi starting methods: current limitation start, voltage ramp start, current limitation + voltage ramp soft start.
High reliability: high-performance microprocessor to process control system's digital signal.
Powerful anti-interference feature: easy adjustment way, the control unit signals are using optical isolation, and set a different anti-noise level.
Optimized structure: this economic soft starter has unique compact design, the upper plastic and lower metal structure combined to meet strong structure and good appearance.
Motor protection: various motor protection functions (such as overcurrent, input/output phase loss, thyristor short circuit, overheat protection etc.)
Simple maintenance: monitor signal encoding system composed by four digital numbers display to form a 24-hour monitoring system working conditions, and provide rapid fault diagnosis.
Energy saving operation mode:
when the motor load is light, the
soft starter
working at energy-saving conditions, PF switch to Y position, under the current feedback action, the soft starter reduces the motor voltage automatically, to reduce excitation component of the motor current. Thereby improving the power factor of the motor (COS∮). If the contactor in bypass state, this feature cannot works. TPF switch provides energy saving features with two reaction times: normal speed and slow speed. The soft starter operation in energy saving state automatic (In normal and slow speed), saving 40% energy in no-load and 5% with load.