Gozuk soft starters
Gozuk soft starter is a kind of power electronics, microprocessor and fuzzy control theory combined with new motor starters. Smooth start/stop the motor, avoid direct starter, star/delta starters, auto decompression and other traditional motor starting mode caused by the impact of the mechanical and electrical problems, and can effectively reduce the starting current and distribution capacity, to avoid Capacity investment. Extend the use of the soft starter service life of mechanical equipment, reducing equipment maintenance, improve economic efficiency.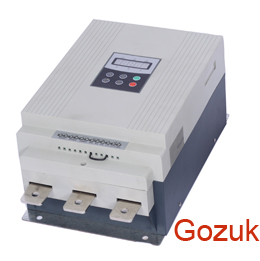 Gozuk Soft starter features
Various start methods: Current limitation start - limit starting current effectively; Voltage ramp start - get the maximum output torque; Jog - to achieve debugging test.
High reliability: It is carried on a number to turn a processing to the signal in the control system by the high performance microprocessor.
Strong anti-interference: The simple adjustment method controls the signal in the unit to all adopt an optoelectronics insulation method.
High performance: adopt high-performance microprocessors and powerful software support function to simplify the control circuit. To achieve accurate and fast execute speed, and high strength anti-jamming capability without modifying the circuit.
Multiple protection features: Gozuk soft starters have overcurrent, overload, phase loss, overheating, etc. protection features to lower costs and simplify the circuit.
Basic installation conditions
Power Supply:
3-phase alternating current 380V, 480V or 660V±15%, 50Hz or 60Hz. The power capacity of the soft start must meet the motor starting requirement.
Matched Motor:
Motor should be three phase squirrel asynchronous motor, and its power capacity must be matched with soft starters.
Starting time:
The
starting time
is according to the loading equipments.
Cooling Mode:
Naturally wind cooling.
Protective Grade:
IP20
Environment Conditions:
when altitude is less than 2000m, the temperature of the environment should be between -25~ 40, relative humidity should be less than 90%, no vapor, no flammable, volatile, corrosive gas. No electric dirt, indoor installation, ventilated, vibration is less 0.5G.
Note: Over more, we can manufacture other type soft starters which are used in special conditions, such as explosion-proof type soft starter, low-temperature type soft starter, or
high-voltage type soft starter
.