Medium voltage soft starter
Gozuk Medium Voltage (MV) solid state soft starters adopt high voltage and large power thyristors in series as the key switching component of high voltage circuit. It controls the motor voltage by changing the flow angle of thyristor, so whatever start voltage and current needed from motor, it also can meet the requirements.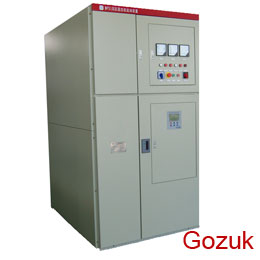 This medium voltage soft starter comes standard with several methods of accelerating the motor so that it can be programmed to match almost any industrial AC motor application. When the motor reaches full speed and the current drops to running levels, the Bypass Contactor will be closed .The Bypass Contactor serves to shunt power around the SCR stack assemblies to prevent heat build-up in the starter enclosure due to the slight voltage drop across the SCRs. At this point, this MV soft starter has the motor operating at full voltage, just as any other motor starter would.
Motor Range
(1) Voltage Range: 3.0~15KV AC
(2) Power rang: 200~10000KW
(3) Frequency: 50/60Hz
(4) Phase sequence: motor voltage phase should be the same as grid voltage phase
(5) Load: three phase medium voltage ac motor
(6) Note: When motor power beyond 10000KW, the grid voltage will reduce more for the high start current (3 times of rating current), so this product is not suggested.
Working Principle
Gozuk medium voltage solid state
soft starters
control the motor voltage by changing the flow angle of thyristor, and it also upgrade the motor speed gradually until rated speed. Schematic diagram as following diagram: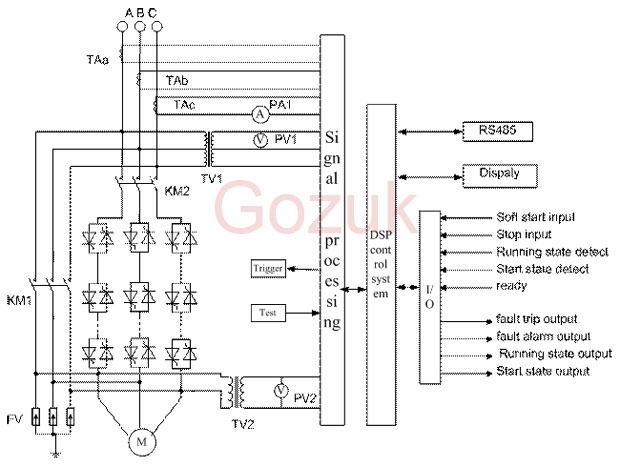 Soft starter drawing & Structure
This MV Soft Starter is structured by means of cabinet, both input and output power connection terminals are at the bottom of unit. When connected, put the starter in series between motor and high voltage switch cabinet, as following drawing: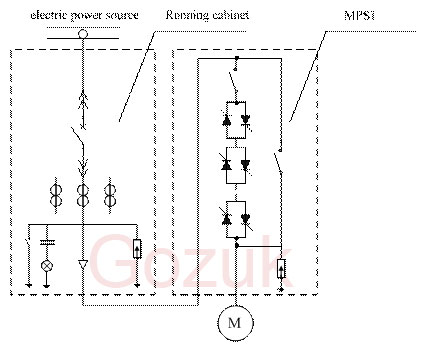 The Medium Voltage Soft Starter mainly contains: contactor SCR stack assemblies, bypass contactor or breaker, overvoltage protection device ,high voltage current transformer, high voltage transformer, DSP electronical control system which contains CPU Board: I/O Board Firing Circuit Board Sampling Board etc. The unit has a simple structure and modularization design makes maintenance convenient and simple.
Soft starter structure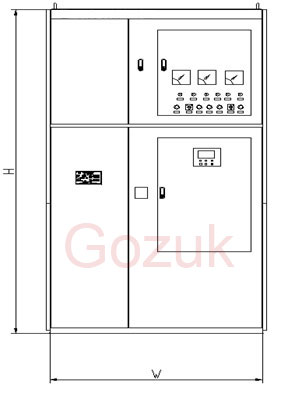 Soft starter installation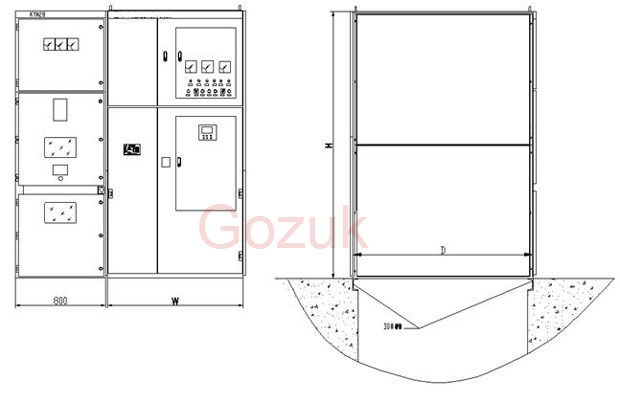 Soft starter technical functions
(1) Ramp Time: Range = 0 - 100 sec.
(2) Starting Voltage: Range = 20 - 70% sec.
(3) Rating Current: Account for the power of motor.
(4) Kick Start Time: 90% line voltage range: 0-3 sec.
(5) Start Mode: Voltage Ramp, Constant Current, Constant Tine etc.
(6) Current Limit: 100%-500%FLA.
Protection
(1) Overvoltage Undervoltage: Can be configurable.
(2) Imbalance current :Imbalance percentage can be configurable.
(3) Overcurrent:current limiter can be configurable.
(4) Overtime: when exceeding the setting start time during starting, the soft starter will stop, start time can be configurable.
(5) Phase Loss: check the phase of input power line.
(6) SCR shortage: check the SCR whether it is short or not.
(7) Time Between Starts: Start 1-4times per hour. The interval time must be set more than 1 min.
(8) Over heat :temperature limit can be configurable.
(9) Overload: the protect class can be configurable.
(10) Undercurrent: undercurrent value can be configurable.
Metering
(1) Current Metering.: Phase A, B, C .
(2) Voltage Metering: Power line voltage and voltage applied to motor.
(3) Temperature Metering he top heat sink of phase B SCRs.
Soft starter communication interface and switch output
(1) Communication interface: Applying Serial interface RS-485 and Communication protocol MODBUS or PROFIBOS, it can control machine to start and stop , upload and modify parameters of working condition and running.
(2) Switch output: Control signal is outputted by Intermediate relay.
Soft starter features
(1) Starting modes and parameters can be modified on the scene, so the machine can satisfy several starting requests.
(2) It has stable starting performance and high restarting accuracy without being impacted by Temperature.
(3) IT has small size, long life and convenient installation and maintenance.
Soft starter wiring
Medium-voltage power lines connect the machine.
Medium voltage power lines connect the correct terminals which have respective tag A, B, C through the back bottom of the machine, joints wrapped medium voltage insulation casing.
The cables from the motor connect the machine.
Cables connect the correct Terminals which has respective tag U, V, W, joints wrapped medium voltage insulation casing.
Control cables connect machine.
Control power connect the number L and N which behind meter-door. To be remote starting signal, number 101 and 301 connect normally-open contacts of starting button in the control room. To be remote stopping signal, number 101 and 303 connect normally-open contacts of stopping button in the control room. Number 305, X4 connect Atresia signals of external technology, and it also can be allowing starting signal. Among allowing starting output, fault trip output, failure alarm output, starting condition output, working condition output and etc, users can choose them according to the request, such as signal instructions control in the control room.